Cuyahoga Heights Village Hall
Located in the heart of Cuyahoga Heights, our Georgian style Village Hall was built in 1935 and features exquisite handcrafted woodwork. In addition to housing the Village Government offices and Council Chambers, there's a large public auditorium on the second floor.
Our office hours are 8:00 AM to 12:00 PM and 1:00 PM to 4:30 PM Monday through Friday. The entrance to Village Hall is located off the parking lot in back of the building.
Arbor Day Memorial Tree Celebration
We invite our residents to honor departed family members through the planting of a Memorial Tree at Bacci Park as we celebrate Arbor Day on Friday, April 28th at 5:30 PM. Village residents may purchase a tree through the Village for $200. The purchase includes your choice of a White Oak, Red Oak, Norway Maple, Green Mountain Sugar Maple or Red Maple, tree planting, initial maintenance and a memorial plaque. The application along with your payment must be delivered to Lee Ann Schoeffler at Village Hall by Monday, March 27th.
Memorial Tree Application 2023
Updates & News
February 2023 Village Newsletter
Centennial Memory Book
After two years and hundreds of hours of research, writing, editing, proofreading, designing and producing final art for the printer, the 688-page Cuyahoga Heights Centennial Memory Book is now available. Reserve your copy today!
Centennial Memory Book Ordering Information
Lee Ann Schoeffler | Administrative Assistant to the Mayor

Cuyahoga Heights Village Hall
4863 East 71st Street
216-641-7020
l.schoeffler@cuyahogaheights.com
Barb Cash | Clerk of Court and Data Entry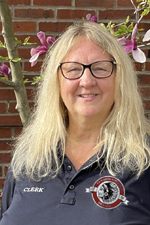 Cuyahoga Heights Village Hall
4863 East 71st Street
216-641-7020
b.cash@cuyahogaheights.com