Welcome to the Village of Cuyahoga Heights
Our "village in the city" is an ideal place to live, grow a business or simply enjoy what this region has to offer. Located just six miles south of downtown Cleveland at the crossroads of Interstates 77 and 480, we're right in the middle of everything.
We have lovely residential streets, an exceptional school system, excellent police, fire and governmental services and beautiful, accessible parks. The Cleveland Metroparks Ohio & Erie Canal Reservation located in the Village serves as the gateway to the Towpath Trail and the "Hidden Valley" along the Cuyahoga River.
With the lowest real estate rates in the Greater Cleveland area, Cuyahoga Heights continues to attract a wide range of diverse and successful businesses. Today, we're home to some of the region's largest industrial enterprises.
Please don't hesitate to contact my office if you have any questions or concerns.
Mayor Jack Bacci | (216) 641-7020
Mayor's Newsletter Message | March 2017
Annual Business Luncheon | Friday, September 16, 2016
As I mentioned in our September Village Newsletter, on Friday, September 16, we held our annual networking luncheon with the businesses in our community at Klima Gardens.
Once again, it was well attended and our guests enjoyed themselves. Several individuals from Consolidated Electrical Distributors were in attendance and we introduced them to our business community; they will be moving into town very shortly. Also in attendance was our newest staff member, Law Director Bill Mason, who replaced Jonathan Greenberg. Bill spoke to our audience about medical marijuana and how it will impact businesses.
We look forward to seeing our business community thist spring at our annual breakfast.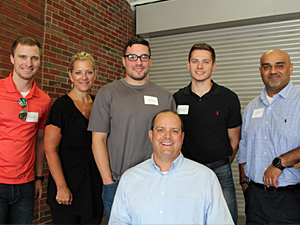 Mayor Bacci with our friends from Charter Steel.
(Left to Right) Andrew Sharp, Deborah Kramer, Steve Stoyer, Michael Cimperman and Neil Ghanem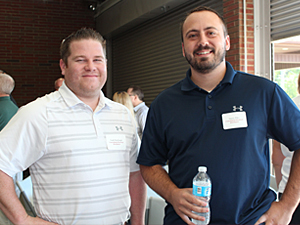 (Left to Right) Todd Sharbaugh and Jimmy Piko from Consolidated Electrical Distributors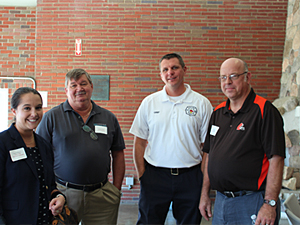 (Left to Right) Lauren Bracci, Fives North American; George Glass, ASK Chemicals;
Fire Chief Mike Suhy, and John Nelson, ASK Chemicals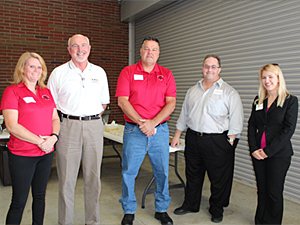 Cuyahoga Heights Service Director Dave Sammons and employee Angel Motz with
(Left to Right) Steve Kovatch, Conrad Hornung & Samantha Slone from Compliance Technologies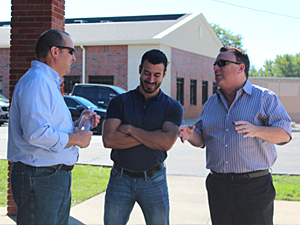 (Left to Right) Mayor Bacci with Constantine Kantartzis and Mike Eiermann
from Western Reserve Water Systems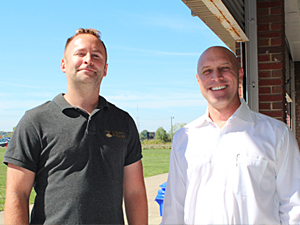 (Left to Right) Kyle Bowling of Tri County Pallet and Nathan Gottlieb of Northern Stamping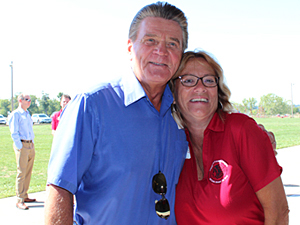 (Left to Right) Walter Benitt from All Industrial with Lee Ann Schoeffler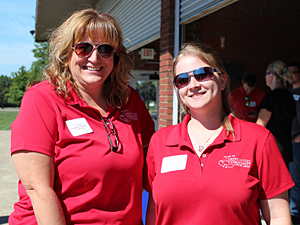 (Left to Right) Lyn Ruggeri and Amy Pritt from the Firefighters Community Credit Union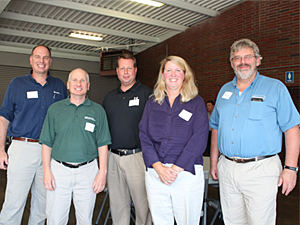 (Left to Right) Kevin Zebrowski, Tom Madej, Scott Broski from NEORSD,
Bethany Criscione, Chas. E. Phipps Co. and Robert Johnson from NEORSD
Village Hall Information
The Village Hall has many applications that may be of interest to residents. Voter registrations, absentee ballot applications, HEAP and HELP Applications, and RTA bus schedules are a few of the many miscellaneous services we provide. Stop by or call the Village Hall for your selections.
Notary service is also available. Lee Ann Schoeffler, Administrative Assistant to the Mayor, is a Notary Public for the State of Ohio, Cuyahoga County. Lee Ann will be happy to notarize anything for Village residents, free of charge, during normal business hours. Please call (216) 641-7020 
or email l.schoeffler@cuyahogaheights.com to schedule an appointment.
Cuyahoga Heights, Ohio Code of Ordinances
Village Statistics
Population 2000 = 599
Population 2010 = 638
Males: 291 (45.6%)
Females 347 (54.4%)
The Cuyahoga Heights population grew 6.5% from 2000 to 2010 versus a decline of 8.2% in Cuyahoga County.
Elevation: 718 feet
County: Cuyahoga
Land Area: 3.2 square miles
Zip Code: 44125
Median Resident Age: 40.5 years
Median Household Income: $59,583 (ACS 2006-2010)
Median House Value: $146,100 (ACS 2006-2010)
Races in Cuyahoga Heights:
White (97.3%)
Asian: (1.4%)
Black or African American (0.6%)
Two or More Races (0.3%)
Ancestries:
Polish (39.5%)
Italian ( (24.1%)
German (18.8%)
Irish (10.1%)
American (7.1%)
Slovak (0.9%)
Hungarian (4.9%)
English (3.3%)
(ACS 2006-2010)