Kennedy House Museum
Cuyahoga Heights Historical Committee
The purpose of the committee is to share Cuyahoga Heights history, photos, and family histories. The goal is to help everyone in our Village respect each other and be proud of their heritage.
Cuyahoga Heights Historical Committee members include Barb Bartczak, Mark Chase, Laura Hine, Irma Schab, Kathy Swartout and Sandy Waldemarson.
If you have any pictures that you would like to share, please contact us. We can scan them and return them to you. If you have any questions, please contact Sandy Waldemarson at swaldo24@gmail.com  or call her at (216) 883-7053.
2014 was a new beginning for the Historical Committee. Mayor Bacci and Council decided it would cost too much to restore the Willow House. The Historical Committee, Village Archives and the Boy Scouts moved across the street to the Kennedy House at 4561 East 71st Street.
Kennedy House Museum Hours
Museum Hours | 10:00 AM to 12:00 PM | First Saturday of the Month | April through November
Meetings | Saturday, April 4, 2015 and Saturday, May 2, 2015 from 10 AM to 12 PM
Memorial Day Open House | Monday, May 25, 2015 from 9 AM to 1 PM
Websites
https://sites.google.com/site/cuyahogahtshistorical/
https://www.facebook.com/groups/132447953512779/
Newsletter
Willow House Times | December 2016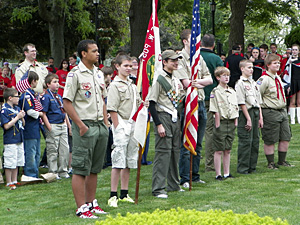 Cuyahoga Heights Boy Scout Troop 28
Boy Scout Troop 28 sponsoring organization is VFW Post 4566.
Our meetings are held on Sunday evenings (2nd and 4th Sundays of the month) from 6 to 8 PM at the Kennedy House. Please check the calendar on the troop website for updates and more information.
Some events the troop participates in include Summer Camp at Seven Ranges, Kelley's Island Trip, CV District Fall Camporee, the annual Halloween overnighter, parades, and much much more.
If you are between the ages of 11-17 and are interested in joining Troop 28 please call Scoutmaster Ken Schoeffler at (216) 441-5202 or (216) 288-1688.
Website